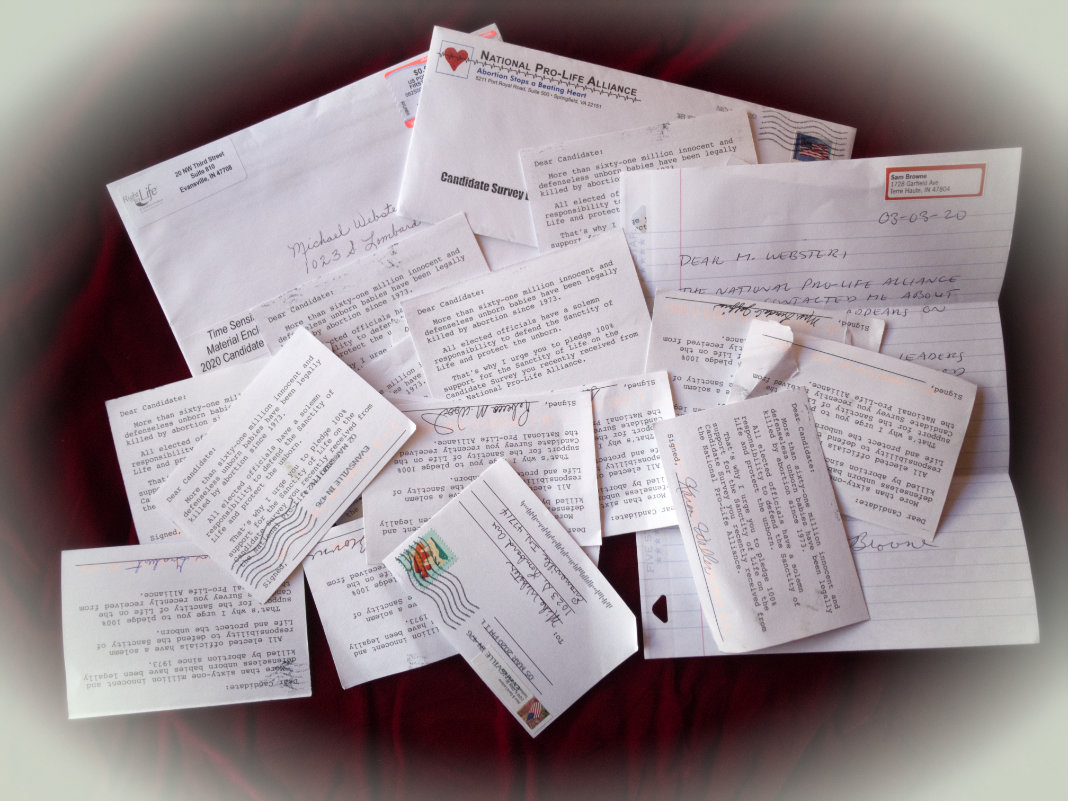 Since filing to run for Congress, I get a steady stream of postcards from anti-abortion activists.
"Dear Candidate,

More than sixty-one million innocent and defenseless unborn babies have been legally killed by abortion since 1973.

All elected officials have a solemn responsibility to defend the Sanctity of Life and protect the unborn.

That's why I urge you to pledge 100% support for the sanctity of life on the Candidate Survey you recently received from the National Pro-Life Alliance."
I was surprised by that 61 million since 1973 in the US number, but looking into it, I found it's actually more or less accurate. And there have been over a billion and a half abortions worldwide since 1980. Both of those numbers are way more than I would have guessed. I was thinking more like thousands.
I understand how people can look at those staggering numbers and be upset. I also understand how cynical political players and politicians can use those regular, decent people to gain and maintain power that they use to advance agendas that are pretty much the opposite of pro life, all the while cashing huge checks, and using abortion services for their own kids, and other children of the wealthy. How many abortions has Donald Trump been a part of? I'd put the over/under at 10 and take the over.
On a practical, strategic level, I am very impressed by the organization behind these postcards. It is very effective politically, how they get regular, decent people to contact politicians with their concerns. I'm sure those same regular decent people donate money to organizations like The National Pro-Life Alliance. In 2018 they raised $270,098 and spent $192,072, $159,500 of it as contributions to federal candidates, $159,000 of that on Republicans.
And that is generally true of most anti-abortion organizations. They are basically just fronts to raise money for Republicans. And, unlike real charities, they skim a lot off the top.
If you feel strongly that stopping abortion is the most important thing we can possibly do, you should cut out these corrupt middlemen and just donate straight to the politicians who support your position. The National Pro-Life Alliances of this world are just bilking you. If abortion were to actually be criminalized, they would be out a paycheck. You'll get a lot more bang for your buck giving directly to the politicians.
Outside of those types of grifters, serial killers, and a few others, I think pretty much all of us are pro life, but that we all have our exceptions.
War, capital punishment, assassinations, letting people die from lack of decent healthcare or workplace protections or social services. The man-made extinction crisis the earth is suffering through right now. The almost certain cataclysmic disaster that is climate change. Or billions of unborn human babies. Seems we all have our blind spots, unless we are Jesus or Ghandi, which we are not.
Seems everybody is pro life about some things, meh on others, and maybe anti-life on others still.
Nevertheless, Democrats should fight to take the words "pro-life" back. We should highlight the fact that we are as pro life as anyone, and much more so than the Republicans and other grifters that prey on regular decent anti-abortion folk like the ones who are so kind as to write to me.
Thanks for writing me. If you'd like to discuss it further, please get in touch and we can arrange a phone call or meeting.